Let me share what hundreds of my clients have used to move past sabotage and their upper limits, to finally have the life and business they crave!

Have you noticed that no matter how hard you work, what you do, or what you launch, your income always stays the same……you're fed up with doing all the rights things and yet not having the rewards?

Perhaps you constantly find yourself on the edge of success and then things happen to bring everything crashing down.. expected challenges, you find jobs that 'just have to be done', expenses you hadn't accounted for, drama with family and friends, illness and a bad case of self doubt.

Lovely lady, you're not alone and that's why I need to share this with you.

Too many people have no idea that their subconscious mind is at the driving wheel and stopping them from having what they desire. I want you to understand and recognise your own self sabotage and upper limits, so they no longer hold you back. Self awareness and an understanding of why you're engaging in old patterns is key in taking back control.

There are some easy solutions to this and that's what I'm offering you today. So if you're ready, let's begin...

Work through some simple exercises, 4 EFT video's and a energy clearing meditation and watch as your reality begins to change. Hundreds of people can't be wrong!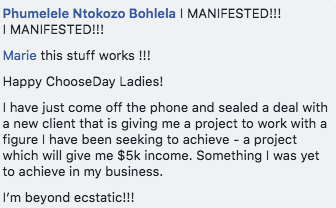 I would love to share this material with you, because I believe we all deserve to live an abundant live. We deserve to have financial freedom and choice and to live each day where we're focused on what brings us joy, not on how we're going to bring in enough money to survive.

So let's get started now.... just click enrol and you'll get instant access.

This content is priceless, because in a few short days (if you commit to yourself and do the work) miracles really can happen. I have experienced this myself and I see it every day with my clients. I am gifting this to you for only £8 (plus digital tax) which is less than the price of a take away.

I can't wait to hear how this has changed your life!