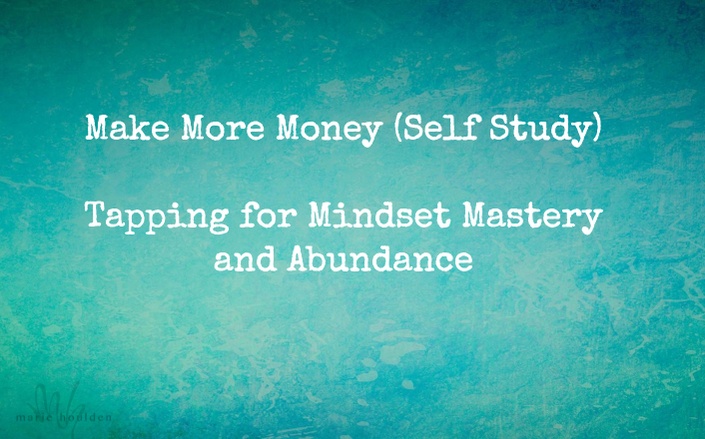 Make More Money (Self Study)
EFT/Tapping for Mindset Mastery and Abundance
10 WEEK SELF STUDY PROGRAMME - PACKED FULL OF CONTENT, EFT SCRIPTS, MEDITATIONS AND STACKS OF BONUS MATERIAL.

Do you struggle to attract and keep money in your life? Or perhaps no matter what you do, you can't seem to get above a certain income level and you're constantly swinging between feast and famine? At times it feels like nothing is working and you just can't trust or rely on money to be there for you.
Every decision is causing you to doubt yourself and your intuition. You want to believe in yourself and know that everything will be okay, but something is stopping you. The bills are mounting up and you're overwhelmed with the cost of everything. You want and need cash…. and the fear of not having it consumes you.
There is so much to do and you're juggling a million things already, your emotional and physical energy is low and at times you question if this is really the right path for you. Your inner critic is telling you that your next launch, offering or project is going to flop and because of this you're sabotaging and upper limiting like never before. Once you remove the emotional and energetic blocks in your way, I believe you can have the mindset that ensures:

• Attract money and abundance into your life with ease
• Earn what you deserve and be fully valued – no more discounts, under charging or over giving
• Release self doubt and feel confident to show people who you really are – time to show up and be visible
• Have the perfect work life balance – putting your family and loved ones first and avoiding burnout forever
This is a 10 week self study programme and it's for people who are ready to earn more money. It's time to share your message, your story and your truth, because you have something special to offer and be paid well. Plus, you're ready to achieve that next level of income – consistently and with ease.
Does this sound like you… because you're not alone:
You know that tough decisions and choices needs to be made and even though you're scared, your commitment to your calling is so strong you're willing to do whatever is necessary.
You're tired of having all your choices dictated by a lack of money. You feel like money is controlling you and you don't like it.
You're prepared to take action and say goodbye to procrastination, because quite frankly your BS excuses are being to bore even you!
You want to feel confidence in speaking your truth and expressing what you want and need. You're fed up of caving in, or backing down on the things that matter to you.
You struggle to believe that the dream life is possible for you – others yes, but you no!
Negative thinking and self doubt always sets in after you begin to take action and you find yourself back at square one – you're self sabotaging and upper limiting.
You constantly find yourself in a state of overwhelm, unsure where to start or what to focus on first.
You are struggling with anxiety and living in constant fear of not having enough and worrying about how to make more… its exhausting and it's beginning to affect your health.
You're stuck at a certain income level, no matter what you do.
You know you have more to offer the world, but how can you even begin to think about your calling or purpose, when you can't even cover the bills. Doing what you love, feels like a luxury you can't afford!
Everyone else makes earning money look so easy. You are fed up of being emotionally triggered by their success, their life style and hearing them talk about how easy it is – plus you're convinced that you need money to make money and so right now everything seems too far out of reach.
You're not setting boundaries in your business, or in your personal life and it's becoming exhausting
I believe that we all have the potential to be wealthy and abundant…. we just need to become more self aware, clear out our old conditioning and open our hearts to receive. This is when pure magic happens.
Module 1: Mindset is so important, because it's the very foundation of your success – it's essential that you understand what mindset is and why it matters. You'll get clear on how much mastery you currently have over your thoughts, as we explore if you're naturally a positive or negative person, if you ever play the victim or martyr and whether you're prone to feeling powerless to change your situation, circumstances and life.

Module 2: Believing in yourself - This is where we go deeper into your mindset and work through any stories you have about your own abilities and what's possible for you. We'll be clearing all the beliefs that tell you why you can't have the life you desire and we'll address perfectionism, over achievement and people pleasing too. This week will also be about identifying and releasing the beliefs we've taken on from others – it's time to set yourself free.

Module 3 Banish your entrepreneurial fears - There are so many fears that we can face as an entrepreneur and as a leader. We will look at the most common, such as fear of; success, failure, being seen, being rejected, having no idea what you are doing, not being supported and making bad decisions and thinking other people are better than you. This module is all about helping you to release the fears that are holding you captive so that you can start to shine your unique light in the world.

Module 4: Your energetic income level & money blocks - We're going to understand what your current energetic income ceiling (the amount you can never seem to push past) is and why this amount of money is so significant to you. Deep in your subconscious you have made a decision about the amount of money you think you should, or could earn and we need to do some digging to find out what this is! Once we identify and understand this, we can then explore the significance of this amount of money.

Module 5: Views about money and rich people - It's important to understand how we feel about those who are already rich and successful, because if we have negative thoughts and views, we may be blocking more money from coming to us. We also watch as they share their work and message and we can become triggered (jealous, envious and critical), because we're still hiding away while they live our dream life. Being honest about this and releasing these blocks is essential for our success.

Module 6: Fears that block the flow of money - We all have fears when it comes to money – will I earn enough to pay the bills, am I good enough to charge this, no will pay me what I really want, you have to work hard for money and then I might burn out…. the list is endless and as diverse as all are! The trick is in understanding what your fears are around money, or what you'll have to do and who you would become to have that consistent flow of money. For example, are you scared of success, failure, being seen, being a fraud, being alone? When we can clear out your fears, you're more likely to take action and know that it's safe to have money in your life!

Module 7: Procrastination - You've mastered your mindset, you have released the old stories and fears, but you're still not taking action on bringing in more money. Perhaps you're stalling on launching something new, you're not raising your prices, you're still not allowing yourself to be visible…. . ultimately, you're not taking action. Everything that we've uncovered over the last few weeks has given you a new outlook on things, but you're still uncertain about moving forward. The old beliefs and fears are holding you back and we need to go deeper….. this is about uncovering another layer and taking you one step closer to success!

Module 8: Self sabotage & upper limiting - You're finally taking action and feeling good, but before you know it drama, stress and conflict is occurring in your life again. Subconsciously, you're sabotaging your own success. You're picking fights with people, holding yourself back, dealing with unexpected payments and generally doing everything you can to ensure life doesn't change! Self Sabotage is linked to things such as fear, limiting beliefs and feeling like we might not be enough. It's also connected to something called an Upper Limit Problem…which is when our ego is literally freaking out at all the change that is happening in our life and in our minds. It wants to keep you safe and so tries to create distractions and drama's to bring everything back to a familiar level for you! This is when you need to hold your course and push through, with total conviction in your heart that you deserve more and can make it happen!

Module 9: Receive, trust & gratitude - We're bringing everything together. After doing all that deep work and taking action, now is the time for you to open your heart and receive. Often this is where people fall down, they are doing everything right, they've done the inner work, but they're not allowing themselves to trust, believe and receive. I want you to stay in a place of total conviction for what's possible and to finally trust yourself and the universe. We'll be exploring your daily gratitude practice and where you struggle to receive. It's time to open your heart and enjoy all the abundance that is waiting for you!

Module 10: Self care and keeping your vibe high - When it comes to being, doing and having more, we need to keep our energetic vibration high. In this final week, we'll look at the importance of self care, letting go and forgiveness. No doubt these topics will come up throughout the course, but this is where we're doing a deep dive. Working through these areas will enable you to feel lighter than ever before, as you truly let go of the past and put yourself first.

WHAT'S INCLUDED:
10 modules
EFT scripts
Guided meditations
TESTIMONIALS:
"Since I began working with Marie, I am more balanced in every area of my life. I finally have work life balance, more clarity and confidence in my business. Marie also helped me get to the root of old issues I never thought I'd be able to manage and work through. I have more energy, joy, happiness and overall fulfilment. Marie is kind, caring and warm, but most importantly, she gets you where you want to go! In the first month of the program, I doubled my monthly income. I am so grateful to have Marie's help for years to come". (Melissa Schollaert)
"I love working with Marie. She helped me during my 5 figure launch, to uncover my self sabotages and to believe in myself and to believe that my goals were coming through. They did! Now she helps me to reach the next level and I cannot wait for all the good stuff I KNOW will happen. I really recommend Marie and her beautiful and good energy " – Jorunn Krokeide, meditation teacher and course creator
"Working with Marie is beautifully easy and comfortable. She is so intuitive that you feel like you're talking with an old friend. Plus, she has an uncanny, laser-sharp ability to hone in on the root of your problem so you can make progress faster. I've greatly enjoyed working with her one-on-one and as a part of her money and abundance group. I've seen significant shifts in my life in areas where I felt stuck for a long time. I am always skeptical of group programs, because it seems some participants get all the attention, while others get left out. Marie holds space for everyone and conducts the group in a balanced way so that all benefit. I learned so much from the other participants, and realized we all have the same core struggles with money. Within the first few weeks of the program, I unexpectedly hit my monthly income goal that I thought would be impossible. I was totally blown away. My favourite part was the group energy healing. Marie's energy is like no other, and even across the ocean, I could feel it intensely. I highly recommend this program if you're feeling stuck in your financial life." (Holly Higgins) Nutritional Therapy Practitioner
Your Instructor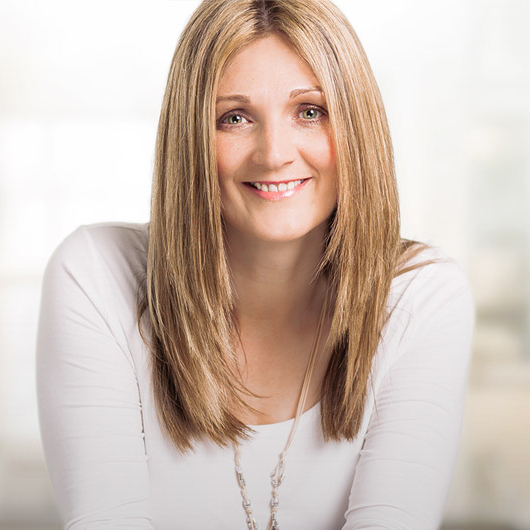 I work with amazing people like you, who know they're destined for more and are ready to confront the belief that they have no choice but to settle for the life they are living . The only problem is you feel overwhelmed and are running out of energy – emotionally, physically and spiritually.
You're sick of that cruel voice in your head, which fills you with self-doubt and makes you lose faith in yourself and your decisions. You wonder if you are special enough, deserving enough or can even create the life you deeply crave.
Releasing your limiting beliefs and facing your fears head on, will help you to silence your inner-critic once and for all. You will finally move on with a strong belief in yourself and your capabilities and with an inner knowing that you can have everything you ever wanted.
Frequently Asked Questions
When does the course start and finish?
The course starts now and never ends! It is a completely self-paced online course - you decide when you start and when you finish.
How long do I have access to the course?
How does lifetime access sound? After enrolling, you have unlimited access to this course for as long as you like - across any and all devices you own.
What if I am unhappy with the course?
We would never want you to be unhappy! If you are unsatisfied with your purchase, contact us in the first 7 days and we will give you a full refund.